After staying put at home (other than a couple of minor trips to Chennai / Kumbakonam) all through the Covid phase, we finally ventured out on a road trip holiday as a family (wife, 12 y/o kid, and me). Writing this as a travel journal format, so that, it could hopefully help folks plan similar trips.
Plan: Bangalore -> Horanadu -> Sringeri -> Udupi -> Kollur -> Baindur -> Bangalore (later added Chikmagalur into the mix)
Day1 (Wednesday) – Started from Bangalore around 1045AM. (Kiddo had his last exam that day).
Used the city route to get out of the city (MG road -> Malleswaram -> Yeshwanthpur -> Tumkur Road -> Nelamangala). Manageable traffic. It was not that bad.
Outside the city, it was Nelamangala -> Yediyur -> Kunigal -> Chennarayapatna -> Hassan -> Belur -> Kottigehara -> Kalasa -> Horandu.
Had packed lunch (lemon rice and curd rice). Ate somewhere in the middle.
Reached Horanadu around 6PM. Temple was practically empty. Had a super darshan. Had packed dinner as well (Chapati and Amul Shreekand). Had it in the parking lot of the temple ; and left around 720PM.
Reached Sringeri around 9PM. This is a dark route with multiple small patches of very bad road, through very dense forests, and almost no habitation.
Finally reached Sringeri at around 9PM. Stayed at Guru Krupa (new serviced apartments that have come up very close to the Temple/Mutt complex). Decent spacious simple rooms. Basement car parking.
Day 2 (Thursday): Spent the entire day in Sringeri. Morning was Sharada temple and Guru Paduka Puja to the Acharya. Afternoon, did a quick sortie to Hariharapura (one of the adjunct mutts in the area, which is about half hour away). Breakfast was at Maruti tiffin rooms (as always). Lunch and dinner was at the Mutt. Saw the night Chandramouleeswara Puja by the Acharya and retired for the night.
Tip 1: Watch out for the badly laid concrete road from the main Bharathi street that goes down to Guru Krupa. Height difference between the concrete topping and the mud shoulder is at least half a feet. I missed seeing it in the night, and hit the underbody of the car. Later in the evening, we saw another car stuck with its underbody scraped up.
Tip 2: Download offline google maps before the trip. Internet can get very spotty in the middle of the forest area. I had downloaded the map, and it was super useful.
Day 3 (Friday): Started early at 605AM. Headed eastwards towards Udupi. Original plan was to hit Udupi for breakfast. But we felt hungry much earlier. Around 7, chanced upon this fantastic restaurant in the middle of nowhere. Good clean veg food.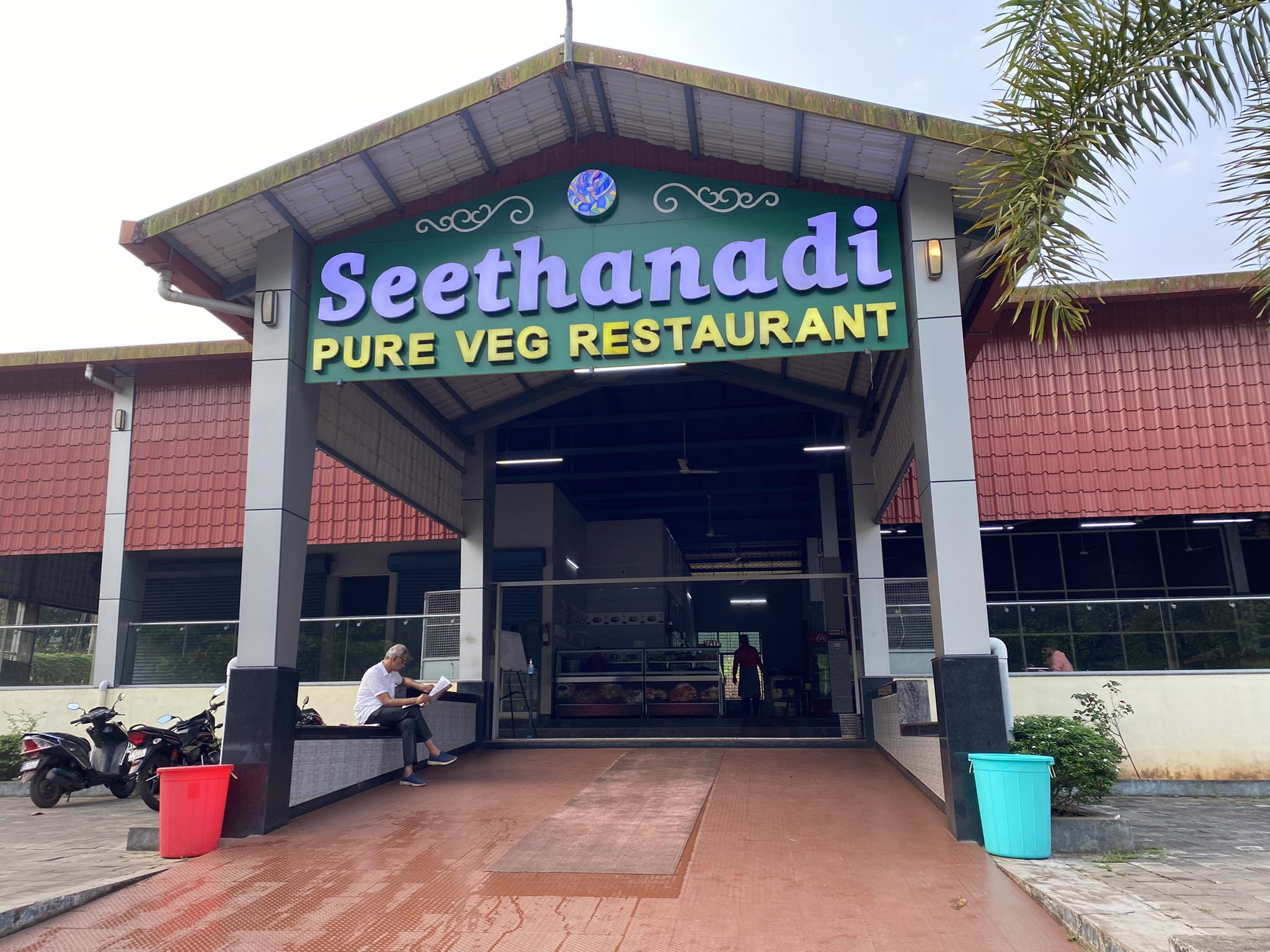 Malnad roads at their best. Wonderful surface quality. Winding around the moutains. With my new automatic car, I had one less thing to focus on (changing gears). Totally enjoyed the drive.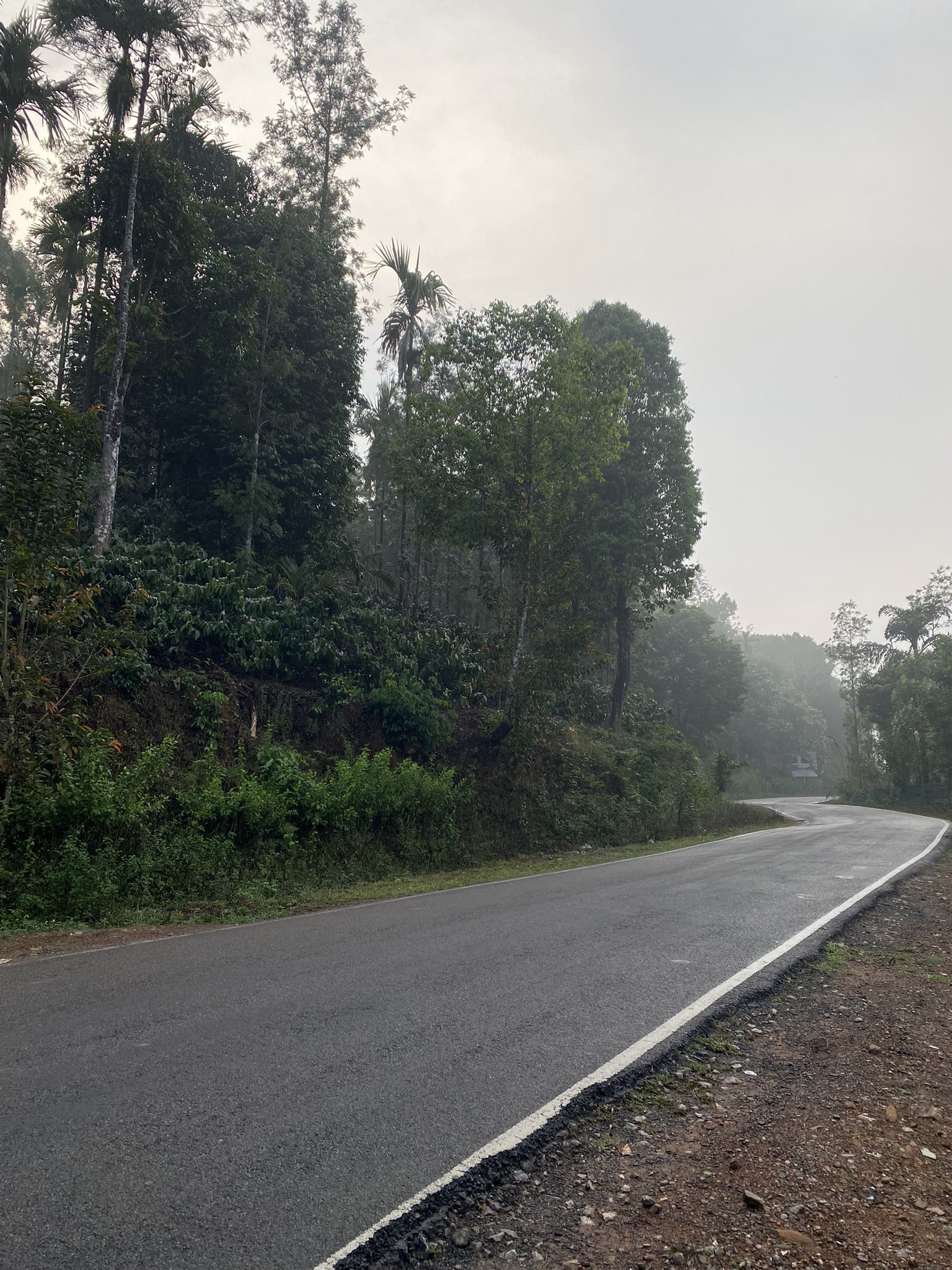 Reached Udupi around 830ish. Krishna temple was not crowded at all, given that it was a weekday (Friday). Had a wonderful darshan. It was Devi Alankaram that day. Finished darshan around 9AM.
The road until Kundapura is a brilliant stretch of road. This is the Kanyakumari National Highway. In multiple places, you can see the Arabian see on the side. Past Kundapura, there are two roads that lead to Kollur. We took the second one (as suggested by Google maps). Road was pretty good.
Reached Kollur around 1015ish. Temple was super crowded. Probably because it was Friday (auspicious for Devi). But good darshan none the less.
Started from Kollur around 1130ish towards Sai Vishram Beach Resort, Baindur. We had good reccos from multiple people about this resort. Original plan was to spend Friday second half. All of Saturday and leave on Sunday.
Some observations about the Sai Vishram resort:
If you are a close to nature person, you will probably like it. Family like ours, who are pretty averse to reptiles and insects, did not take to it too lightly. We found huge lizards, cockroaches and a toad – all within the room.
We took the tent room initially – very close to the beach. You can hear the waves. It was unkempt and we saw the lizards here. Asked for a change in room ; got shown a delux room (higher up in the property and further from the beach), which looked like it had not been cleaned at all.
We came back to the tent room and asked for a full clean up and got prepared to settle down ; but they gave us a beautiful beach cottage right next to it. Great, we thought.
We went out to the beach for playing. Had an excellent time. The beach is super clean and private.
We then had dinner. Food here is average, but not bad at all. Simple wholesome veg food.
We came back to room for a shock. More lizards and a huge toad on the door. We called the staff again. The staff, I should say, are super helpful. A guy came immediately and helped remove the toad and scared the lizard away.
Thats when my son started complaining of stomach issues (pain/vomit/loose stools). Could have been something we ate at dinner ; or some salt water intake during the water activities (as suggested by the staff).
Later in the middle of the night, we had a huge cockroach dance around the ceiling.
The property website says – there might be lizards, frogs and snakes on the property. We had seen the first two, and had no intention on seeing the third. We made plans to leave the next day.
We also thought, with the kiddo sick, instead of doing a Bangalore return (8-9 hours), we could break in the middle.
I should say however the staff were super helpful and courteous. Beach proximity is amazing. I wish they maintained the property better (or had non-nature-focused rooms for families like us).
Signal strength in most places is super low and they dont have intercom facility – so its a huge exercise in itself to call a staff member up in the middle of the night.
Snagged a room at the Vismita County resort in Chikmagalur sometime in the middle of the night.
Day 4 (Saturday): Had an early breakfast and left around 9Am. Reached Chikmagalur around 145PM – right on time for lunch.
This drive is super pretty . Goes through Agumbe. We missed a turn somewhere and ended going through Sringeri, and then back to SH27, through Balehonnur and eventually to Chikmagalur.
Notes on Vismita County:
Great property
Newly developed – only about 1.5 yrs old
Very well maintained.
Has about 2 kms of bicycle trails within the property – they provide cycles
Food was really good
Helpful staff. When we had to get some meds for my kid for the stomach upset, they sent someone fairly late in the night up to town to get the meds.
Day 5 (Sunday): Had breakfast around 8AM and left around 920am. Fairly uneventful drive back to Bangalore.